1. Friday Night
Its a FUNDAYYY BABYYY!!!
Come Join us this Friday Night
For the Best Sokkie in the Vaal
& The ultimate clubbing experience

Ladies get Free Entry between 7pm and 8pm
Entry: R20
Bar Specials:

Pizza Special and lots more...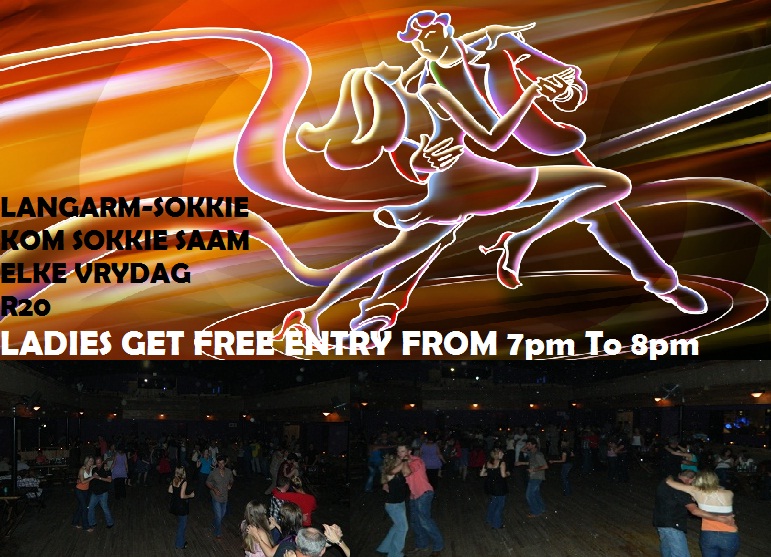 2. Open MIC Nights
OPEN MIC 2017 - Re-opens 01 February 2017

Be part of the Wednesday Night Open MIC sessions now bigger and better
Hosted by Dave Fouché from IFM
General Knowledge Quiz
Lots of Prizes to be won
Let your talent be spotted in Comedy / Poetry / Music and anything that's on your mind
Performances begin at 11:00. Closing time is 10:45
Sign-up time is 10:45. First come – first served. PLEASE WRITE CLEARLY. Come on time to assure a time-slot.
You get to play 2, maybe 3 songs depending on the size of the list. Less than 10 we usually go with 3 songs. 10 or more we go with 2 and if time permits allow performers another song.
We provide: 2-microphones, 2 instrument cables, mic stands, and the house sound system. Other than that… bring what you need e.g. Extra mic, another cable.
* Please! No drum kits. Hand drums are acceptable. Do Not Bring Amplifiers! Instruments must be plugged into house sound board.
We have volume restrictions and can handle acoustic guitars, electric guitars, keyboards, electric mandolin, even a bass guitar.
Stage can hold 4 performers total.
When you are next – please be ready. Your instruments should already be out of their cases and tuned-up. Be ready to take the stage when you are called.
Performers must know their lyrics/words, as it not a Karaoke session
Tune-up BEFORE you go on stage. If you have difficulty tuning, don't be embarrassed to ask someone for help. We're all friends here and we want you to sound good. Don't lose performance time playing the tune up song.
Perform material that you are comfortable with. We don't expect perfection but its always best to be as prepared as you can be. Choose songs you are comfortable with.
*People performing stand up comic act's please note that no vulgar or inappropriate language will be tolerated during any performance.
Please keep other people in consideration.
BE CONSIDERATE OF THE OTHER PERFORMERS. Please be quiet and show respect for the performers on stage. Do not play instruments while performers are on stage. APPLAUD FOR EVERYONE. It provides encouragement and you'll see how good it makes you feel when you perform.
Please stay for the performers after yourself. We all like to have an audience and it's all about supporting one another.
ANY PERSON NOT ADHEARING TO THESE RULES AND REGULATIONS WILL BE ASKED TO LEAVE THE STAGE AND PREMISSES.MANAGEMENT ORDERS.
GOOD LUCK and Thanks for your support!!